This website is designed to provide students with the "cases and materials" part of my European Union Law (2nd edn) textbook. It can, of course, equally be used for those using the first edition and the European Constitutional Law textbook.
Chapters and chapter-specific materials: You would have seen an overview of all the chapters as you enter the website. Simply click a chapter to read a more. With the navigation pane on the top, you can explore the chapter-specific:
Cases
Legislation
Figures and pictures (click on an image to view)
Extra materials (useful videos, resources, etc), and
Further reading (when clicked, it will automatically redirect you to a download page if you are on-campus)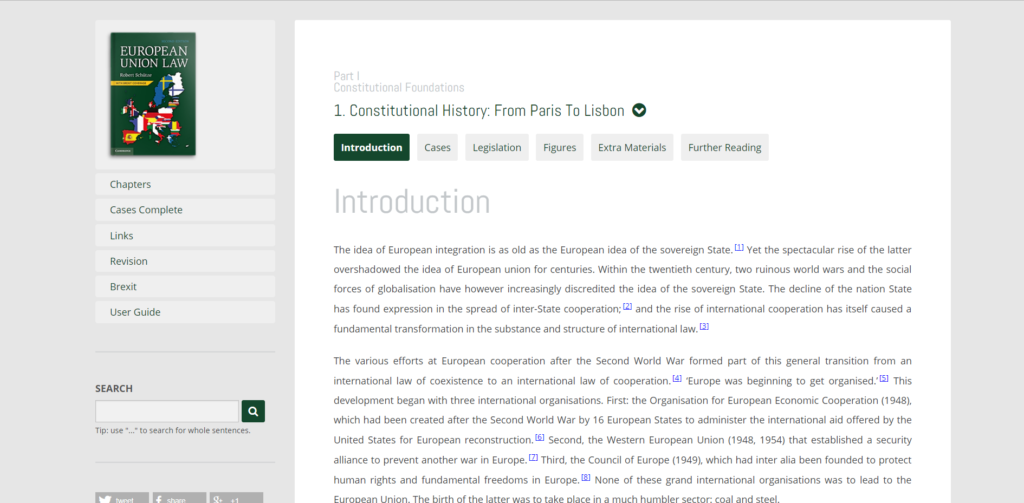 Cases complete provides an overview of all the cases mentioned in the book. Full cases are Lisbonised. Those that start with "Summary of…" is a summary of the case stated (to search only for case summaries, go to Revision > Case summaries). They are all downloadable as PDFs.
Links provides, well, links to the most important websites of the EU institutions and the most important academic journals and blogs. Simply click to expand.
Revision section is divided into four parts:
Essays: general essay tips
Problem questions: charts for problem questions such as Art 263 TFEU, other methods of review, liability actions, direct effect. Downloadable in PDF.
Revision slides: these are chapter-specific and aim to highlight the key points of each chapter. Downloadable in PDF or PPTX.
Case summaries: highlights facts, outcome and significance of key cases. You can use the search button on the right-hand side. Downloadable in PDF.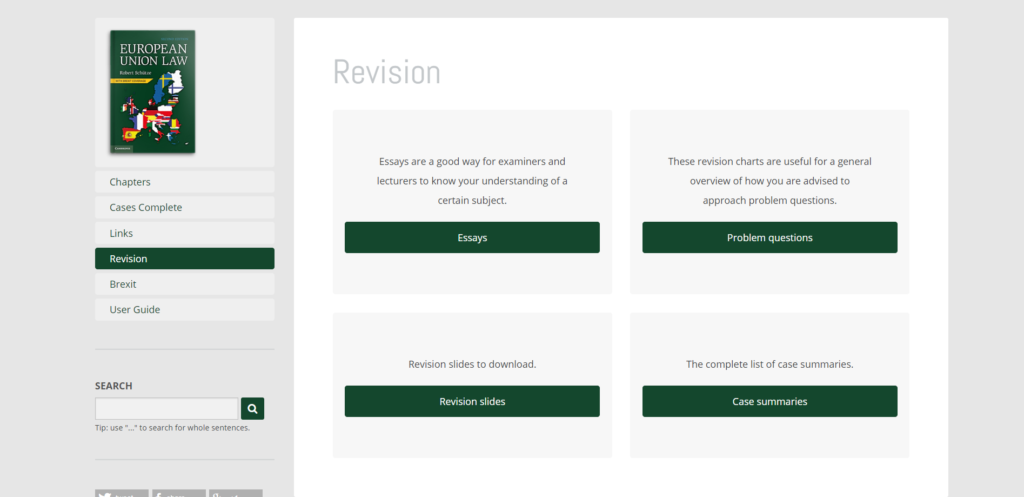 Brexit highlights key issues in Brexit and gives links and useful resources for students to use. There is even a countdown to Brexit, too!
User guide will always be here for you to come back to.
Disclaimer: This website is hosted, controlled and maintained by Robert Schütze. Cambridge University Press does not accept any responsibility for the content and/or the services offered on this website.